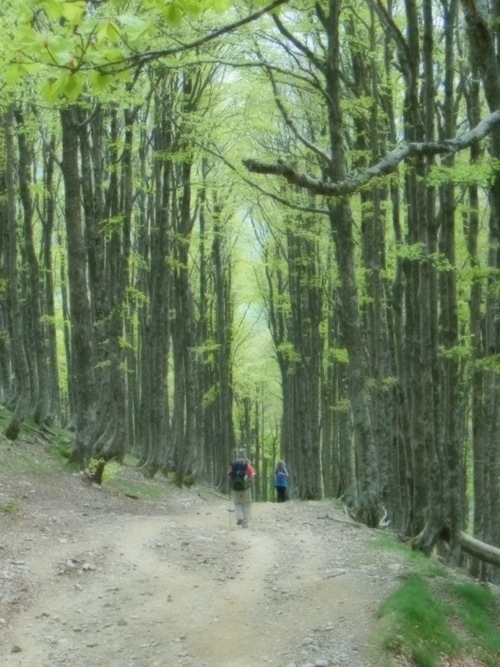 Only 36 hours on the Camino and I have learned so much already! Jed and I are in Zubiri, in Navarra. Yesterday we crossed the Pyrenees from France, a day that I have been worried about for months. We spent the night in Roncesvalles, in the Albergue Provincial at the foot of the Spanish Pyrenees, a monastery since medieval times. Here's a little of what I know so far.
1. Transitions can happen when I'm not looking. We crossed from France into Spain and I didn't know it because I missed the border sign, which I had been watching for. It didn't matter. The transition happened anyway.
2. Mass in Spanish may still be incredible moving, probably more so than in English. I understand why people miss the Latin mass. "Esta noche, Espana es el mundo." I cried. Of course, I was VERY TIRED.
3. What I think will be the hard part might not actually be the hard part. Twelve miles of interminable climbing yesterday was a piece of cake compared to the last two downhill miles, which hurt like a son of a bitch.
4. The oddest things evoke a visceral response. In the old church last night in Roncesvalles, there was a simple statue of St. James that spoke to my heart much more clearly than the gilded Virgen de Roncesvalles that dates from the 1400s. My response has nothing to do with my ego and everything to do with my heart.
5. Sometimes good advice is to "get up more times that you fall," and sometimes good advice is "enough is enough." Wisdom is probably being able to tell which one applies at any given moment. I hope I learn how to do that.
Less profoundly:
6. I really like waking to the serenading of volunteer Danish hospitaleros strolling through the dormitory singing "Wake up, little Suzy," and "Morning has broken" at 6 am. This is a thoroughly charming ritual and I want more of it.
7. There are gigantic slugs in Spain, also.
8. Basque macaroons and pate are delicious, as is red wine from Navarra.
Most profoundly of all:
9. I am learning that I can walk farther than I thought I could (fueled primarily by cafe con leche and toast) and that I am so blessed, especially to be here with Jed.
Thank you all for your prayers and positive juju. I am grateful.
More lessons to follow.
Buen Camino!