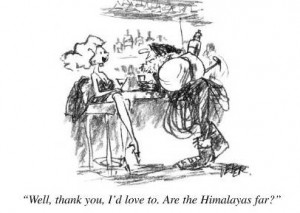 Do you remember a moment when you made a major life decision or chose to acquiesce to a loved one's wishes and then said, "Oh. Shit. This is what that means"? Maybe it was moving in together, or getting married, or having kids, or your husband saying he felt called to be an Episcopal priest. I had that moment recently (again) after Jed said, "I'd like to walk the Camino de Santiago, and I want you to come with me." "I'd love to," I replied.
As this adventure has become less theoretical and more real, I've been freaking out more and more. Then I think, "Come on. You're a coach. Coach yourself." So yesterday I did.
First a little background: The Camino de Santiago's most-traveled route, the one popularized in The Way, is 500 miles of well-trodden path that begins in St. Jean Pied de Port in the far south of France, crosses the Pyrenees and most of the northern part of Spain, and ends in Santiago de Compostela. It's not wilderness. The Camino passes through several cities including Pamplona, Burgos, and Leon. Along The Way there are many small towns full of shops and bars and cafes and hotels catering to the more than 150,000 people who make this trek annually, and have for a thousand years. The freaking out part, for me, is that we plan to take five weeks to walk these 500 miles, which works out to about 15 miles per day. We'll take a few rest days, so the average goes up to around 17 miles per day. That's fewer miles than some walk in a day, and more miles than others.
Yesterday, when I felt the freak-out, I got quiet and listened to what my mind was saying. Here's what I heard:
I don't want to do this.
It's not safe to do this.
I shouldn't have to do this.
I don't know how to do this.
I don't know what's going to happen.
That's when it clicked. I think my life needs to be predictable, that I need to feel in control, and that I must always look and feel competent. I know these things about myself.
The Camino will challenge these beliefs so much.
My husband included this video in his adult forum on the Camino yesterday. About half way in these four words appeared: "Let's Just Walk Today." And I got it. I understood then that The Way through this experience for me is Let's Just Walk Today.
The Camino is already providing.
Let's: I walk in community. I walk with the love of my life, with the prayers and support of family and friends and people I've never met, and with fellow pilgrims.
Just Walk: Take the next step. Trust the Camino. Simplify. Lighten up. Let go.
Today: Breathe in all this awesomeness with appreciation and gratitude.
Peregrinos say that the Camino changes their life, usually in ways they did not expect. I walk to grow in trust, flexibility, and acceptance. I am grateful for your prayers, support, and gifts. I invite you to accompany me. I'll let you know what happens along The Way.