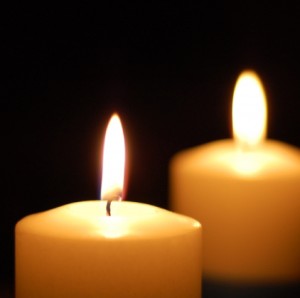 Dear ones,
Today is the Winter Solstice, Midwinter's Day, the longest night of the year. At 3:03 pm here in Oregon the sun will reach its lowest point.
If you live in the northern hemisphere, I'm sure you've noticed that it's really dark these days. Dark and cold. Dark and cold and sometimes icy. And cloudy. And windy and snowy. Did I say cold? And dark.
Isn't winter lovely? I mean that sincerely. Our days are short, our nights are long, and we are immersed in darkness.
Darkness is necessary for life and light. Seeds germinate in the dark. Babies gestate in the dark. Restorative sleep happens in the dark. The earth rests in the dark — caterpillars are resting, waiting to become butterflies. Leaf buds are resting, waiting to unfurl. Animals are resting, waiting for the sun's return and the resumption of their forest revels.
Some ways to mark the Solstice and the turning of the year:
Give yourself the gift of time. Sit in the dark. Light a candle and simply be present to darkness.
Create a poem or piece of art honoring darkness and your human connection to this gift.
Choose a word or theme for 2015. The dark is the perfect place to do this. Some resources: Abbey of the Arts "Give me a word" is a series of twelve short meditations to help you dig deep and surface your word for 2015. Coach Anna Kunnecke's blog on this topic looks at words from a different perspective.
The sun begins its slow rise now. Soon the days will be noticeably longer and the dark will dissipate. Let's celebrate darkness, friends!
I'd love to hear about your word for 2015, and how you celebrate darkness, in the comments. More about words next week in this space.